<! -- Copyright (c) 2009 Computronics. All rights reserved. -->
Welcome to the Home Page
Do you use Unix?
Computronics sells software to help Unix system administrators, Computronics most popular products are below, and include Logmon®, PEEK®, and Zip for Unix.

New versions of Logmon are out! Logmon now uses a single daemon and supports monitoring of multiple systems on your network. The latest Logmon allows you to monitor a combination of CPU usage and TTY activity.
ZIP has been enhanced with full 128 bit or 256 AES compatible encryption! You can now securely password protect your ZIP archives AND read archives created by other AES compatible ZIP programs.
---
LOGMON ® - Log off idle users gracefully!
Logmon monitors the cpu usage of your users (not just keyboard activity) and can send a warning message and log off idle users. You control the inactivity level by user, time of day, etc. You control how people are actually logged off, via a customizable script.
---
PEEK ® - See what your users are doing and help them out!
With Peek, you see what your users are typing, their keystrokes, their screens. Peek lets you type on behalf of those users. Use Peek for remote support, demo's, and for training. Requires no kernel change or rebuild or reboot to install. Now supports conversions between dissimilar terminal types. Also, Status Line Message add-on software to allow you to send messages to users without disturbing their screens.
---
ZIP - Compresses files so that they take less space and save transmission time.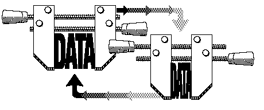 ZIP can store multiple files as one and transfer them together, and it is fully compatible with PKWare's PKZIP versions through 2.04g. ZIP also supports long filenames, for transport to operating systems such as Windows NT, Windows 95, OS/2, PRIMOS, etc. You can even create PC compatible self extracting executables on UNIX. And now ZIP can read AND create ZIP files encrypted using the 128 bit or 256 bit AES encryption.
---
You can access the most popular Computronics products, including documentation and trial copies, by accessing our FTP server.
FTP server note: Our ftp server uses passive ftp. Most clients and browsers can download just fine. But some sites have problems when downloading. We have alternate links above for PEEK, Logmon, and ZIP manuals and downloads for the most popular platforms. Not all the versions are on these sites, so if you have problems downloading and can't resolve them, PLEASE contact Computronics so we can assist you.
---

4N165 Wood Dale Road
Addison, Illinois 60101 USA


Copyright © 2009 Computronics. All rights reserved.

Peek ® and Logmon ® are registered trademarks of Computronics. All other brand and product names contained here are trademarks or registered trademarks of their respective holders.